Latest offers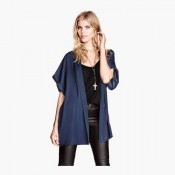 Add a touch of oriental to your wardrobe with this navy kimono: £19.99 Short kimono in a weave with a matt silk feel, with lapels in a contrasting colour, short, wide sleeves with sewn-in turn-ups and no buttons.
Looking for a stylish buy, brand new dress or even a whole new wardrobe? Update your look with 100s of stylish women's clothes, women's shoes, jackets and more arriving daily, you won't be disappointed. Black Daisy Tea Dress £38.00
News & Events
Posted: Thursday, 27 February 2014
We're pleased to announce that we now offer all of our customers a free Wi-fi service, enabling shoppers to surf the net while they shop.
Posted: Wednesday, 19 February 2014
As the days get longer and warmer, its time to get outdoors and get active.
Posted: Wednesday, 12 February 2014
Spring clean your drawers. Feng shui your wardrobe. Clear out those cupboards. Bring your unwanted clothes, accessories and quality homeware to TK Maxx.
Voice your opinion
With St. Patrick's Day just around the corner on 17 March, we ask you whether you'll be celebrating the occasion.